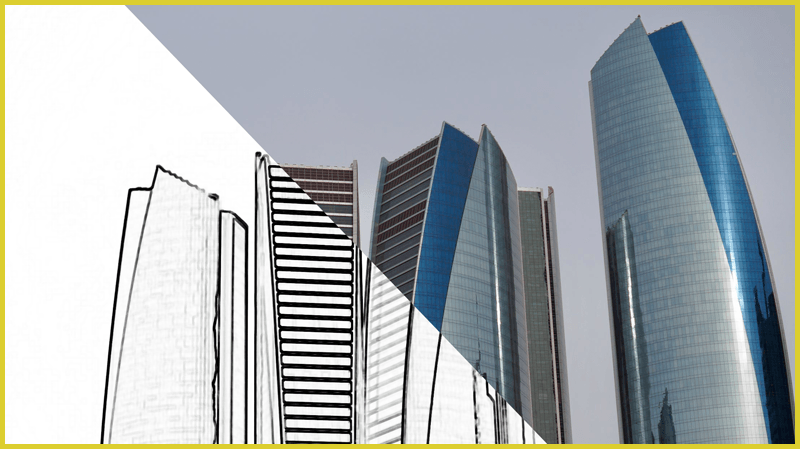 I hear this question often. Part of my role involves demystifying emerging building technologies and helping our customers understand how they can leverage them for their own organizational success. Having experience working with each of these, Digital Twin (being the youngest of the three) is still the most misunderstood and underappreciated.
So, here is my attempt at explaining the difference between these three technologies, all within the Buildings market context.
BIM is not a Digital Twin
BIM is a small sub-set of a Digital Twin, frozen in time - typically during the design and construction phase. BIM is a finely tuned tool for more accurate design, collaboration, visualization, costing and construction sequencing phases of a building's life.
BIM is not designed for the operation and maintenance phases of a building's life, nor is it designed to ingest nor action on the vast amounts of live IoT data generated by a 'breathing' and 'thinking' Smart Building. Its primary purpose is to design and construct a building, and post-construction, it serves to provide a digital record of a constructed asset.
BIM is only focused on buildings - not people or processes.
However, BIM is a small but very useful input into a Digital Twin, as it provides us with an accurate digital asset register and location data and is a great starting point for both a Smart Building and a Digital Twin.
A Smart Building and a Digital Twin are not the same
Similarly, a Smart Building is another sub-set of a Digital Twin, providing us with near real-time information about a building during its fully occupied and utilized phase of life.
At its simplest level, a Smart Building tech stack can consist of IoT sensors, internet and transmission-based protocols, integrated communications network, data lakes/warehouses/refineries, edge processing, edge/cloud-based analytics - all bundled into a single (on-premise or cloud-based) Integrated Services Platform.
The Integrated Services Platform aggregates data from multiple building systems on site and delivers resource-efficient and sustainable buildings which also provide more personalized experiences to its occupants.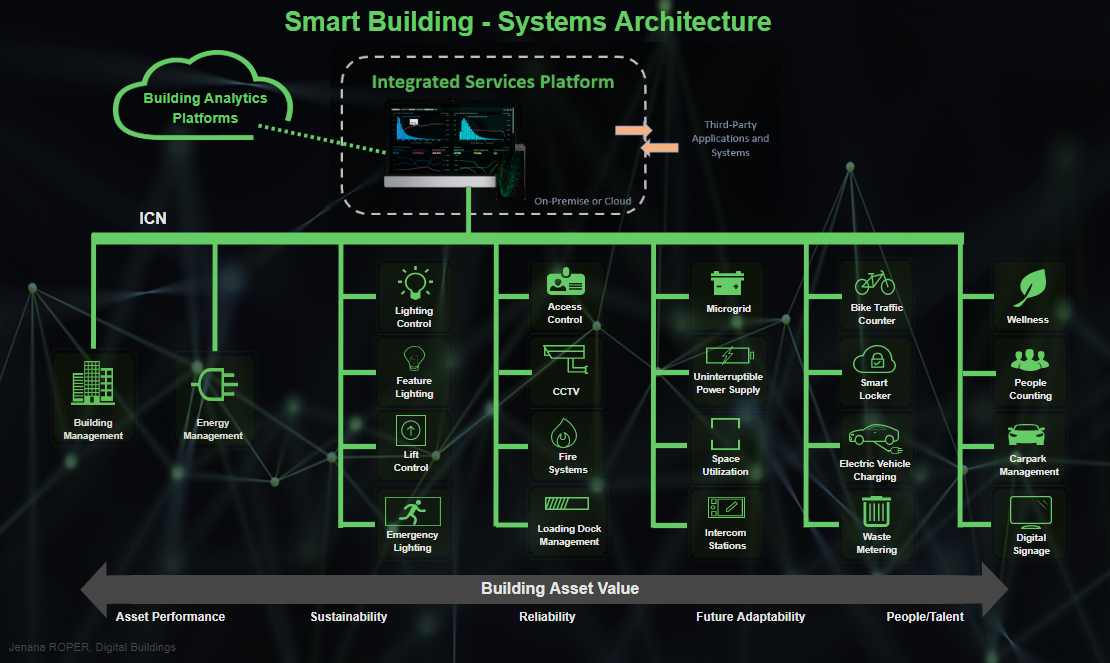 Unlike a traditional automation-controlled building which operates in systems and data silos, a Smart Building integrates data from all building systems and IoT devices on site into a single Integrated Services Platform.
In short, a Smart Building is a connected, integrated and insights-driven building, personalized and fine-tuned for specific outcomes.
However, a Smart Building is not a one-size-fits-all solution. The value and the benefits of a Smart Building all largely depend on the specific Smart Building's design complexity and the level of sophistication involved (Memoori have developed a great graph to demonstrate this Smart Building data maturity – see here.
From a business perspective, an Integrated Services Platform is just an enabler tool and a start of the Smart Building journey. Understanding what to do with this large volume of building data once captured - and how it can be leveraged to drive meaningful change - should be the key starting point and an outcome of any Smart Building design.
Having a clear data strategy, establishing big data leadership and governance, and converting captured data into actionable intelligence to inform overall business strategy are all key to realizing high-level business benefits of a Smart Building.
So, what then is a Digital Twin?
A Digital Twin takes the building's data from all sources, including the physical (which BIM forms part of) and systems (which Integrated Services Platform forms part of), and it adds the missing data pieces. Namely the people and processes aspects, to give us a full digital picture of a building.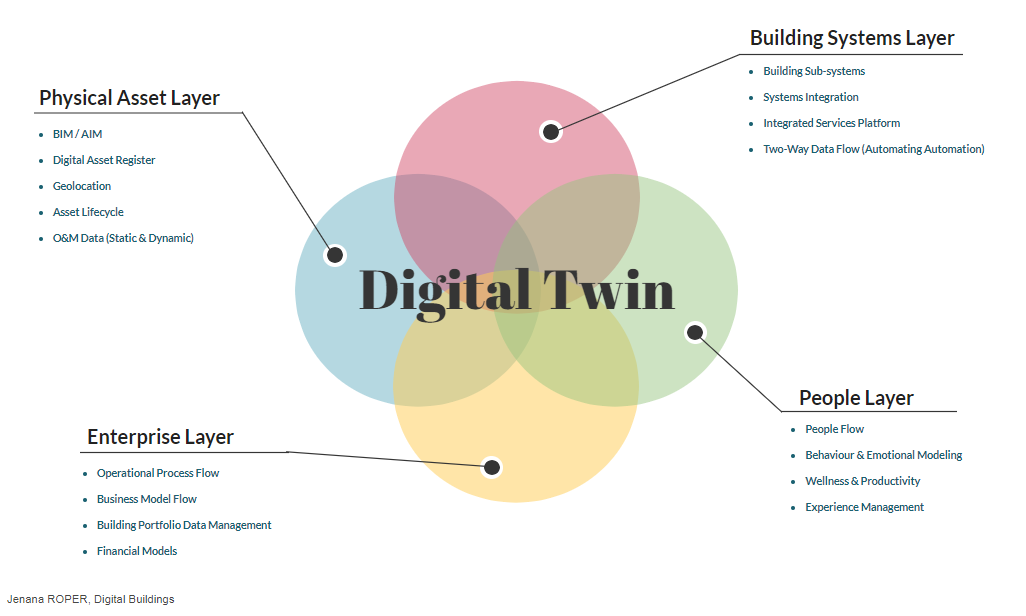 Put simply, a Digital Twin is an incredibly powerful spatially-aware data model (semantic graph or network model database with built-in relationship schema for example), that allows for simulation of future plans and running of 'what if?' scenarios. This digital simulation can be run across any number of different pillars - whether financial, business strategy, even organizational structure to name a few.
Because these simulations are run in a virtual environment, as opposed to risk-fraught real-life environment, the cost/benefits stack up.
But most importantly, because everything is run within a virtual model, a Digital Twin allows for rapid ideation, prototyping, and business case validation in a near-risk-free environment – thus encouraging continual business innovation and ongoing feedback as an input into the existing business strategy and its continual update. Talk about being data-insights-driven, iterative and truly Agile as an organization!
In summary
Understanding the differences and limitations of these different technologies - and developing your own business-specific strategy on how to leverage them - are key to harnessing the transformational potential they each hold.

What is your experience with these technologies?

What does a Smart Building / Digital Twin mean to you?

Author: Jenana Roper | Buildings Solutions Development Manager | Digital Buildings

The article was originally published here.

<!— Hotjar Tracking Code for www.velistech.com —>