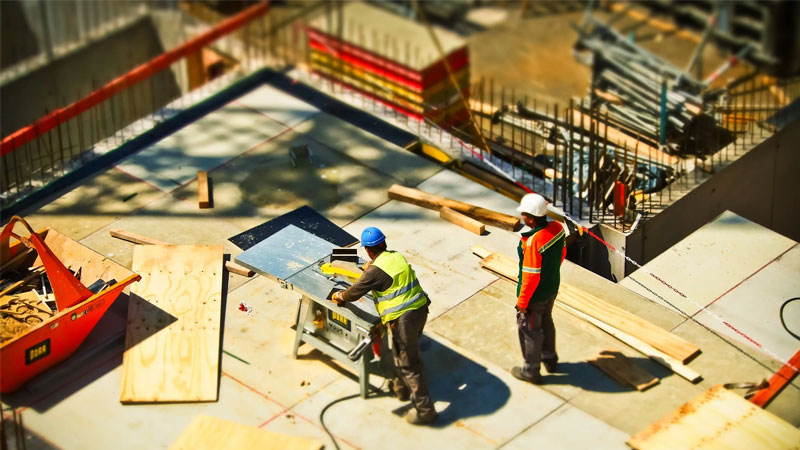 Going from traditional methods of organizing work to new software always requests some will and effort to adapt for an organization. But the sweat and tears put in the implementation can help you reduce the cost of overall maintenance, improve your workflow, better track and report the work done and improve workers' health and safety.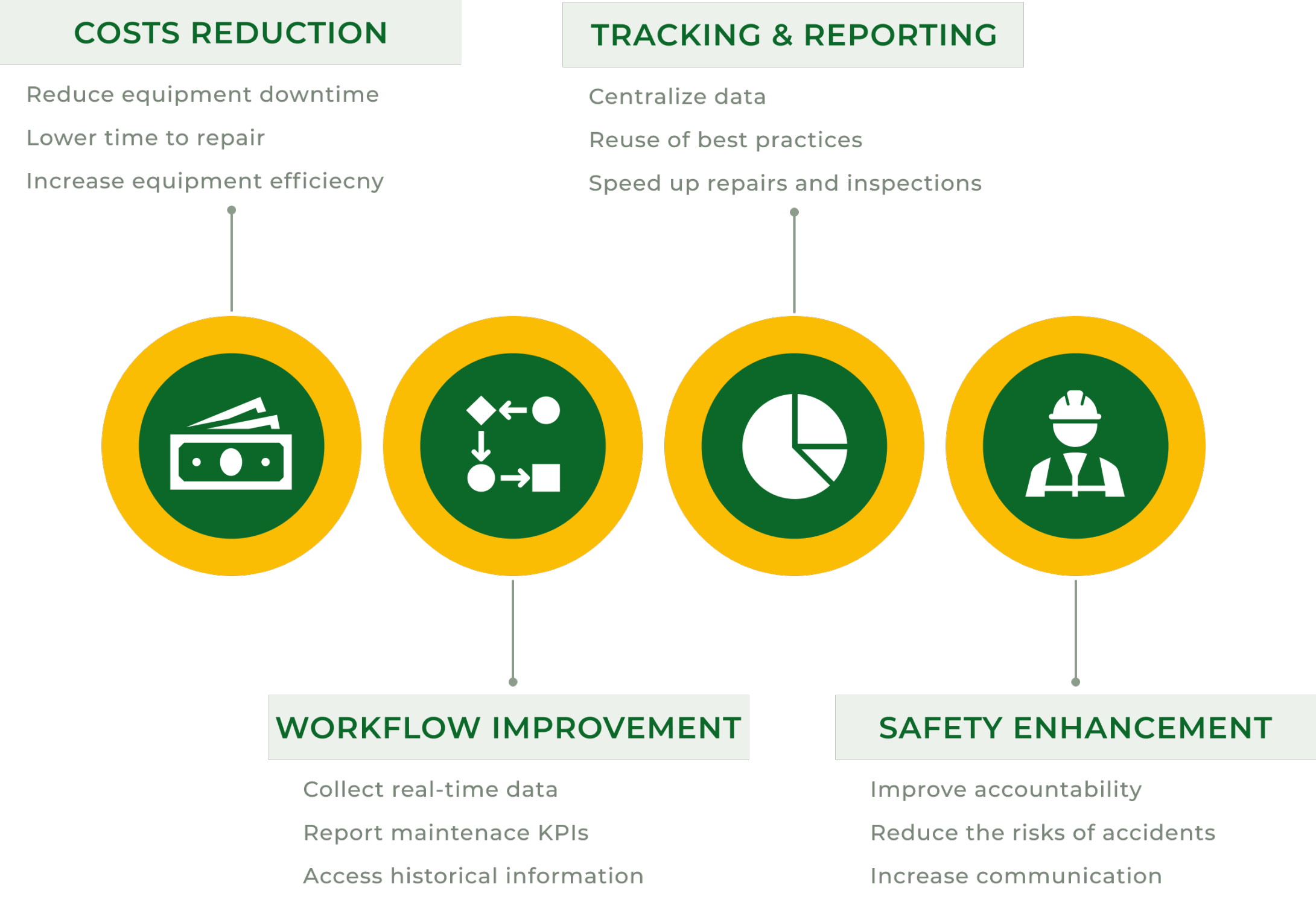 1. Reduce equipment downtime
The downtime of critical equipment on highly mechanized construction project can be responsible to up to a few thousand USD per hour for operational cost according to the size of the project. As every hour count, preventive maintenance helps to catch the problems before they occur but the follow up onsite can be time-consuming.
A CMMS platform solves this problem by bringing appropriate tools to automate the work to be done. The configuration of maintenance preventive triggers either time-based or condition-based will alert you and your team of the work to perform on a daily basis.
2. Lower time to repair
Every project brings a new team and new talents together. It is not often easy to identify the capabilities of every professional to ensure the highest standards required on the project are met.
With a CMMS, you are able to share the best practices developed on your projects and within your company. This ensures that professionals can develop their talent as experts but can also be guided through the gathered experience of the company. Having a clear troubleshooting path and procedures when the failure is identified is one powerful tool that can be brought to the maintenance team.
3. Increase equipment efficiency
The number of equipment on-site can be overwhelming for the team trying to catch with the advancement of the project. The project is monitored by the direct progress of some critical equipment and their efficiency are at primary concern.
The opportunity to perform regular check and maintenance preventive work can be identified through a CMMS. The regular maintenance such as oil changing, greasing, fuel refilling will help on keeping the state of equipment at an optimal level of operation from the beginning to the end of the project.

Transfer of information and communication has always been pointed by management teams onsite and is still overlooked today. It has been reported that engineers responsible for the maintenance without dedicated software solutions such as CMMS spend from 1 to 3 hours on average every day to fulfill data from paper forms.
4. Centralize data
Data are multiple and it is hard without proper tools to gather measurements, pictures, comments, drawings in a place where everyone can get access when needed. The personalized organization of information is really inconvenient for professionals to share knowledge and insights to manage assets on a daily basis.
Having the data captured, centralized and shared throughout the same platform is one of the key benefits of a CMMS for the maintenance team. Get rid of the logistics of the paper to bring digitalization in the workplace will help every professional to focus on what really matters onsite.
5. Reuse of best practices
Every project is claimed to be different but learnings and best practices can be carried from one project to another making the difference between a young professional and an experienced manager. This expertise is valuable for the company to put everyone on the required standards of safety and maintenance but sharing of knowledge has been hard to put in place.
Being able to create practices and methodology for equipment maintenance is a recurrent problem on every project. An adapted CMMS would bring the ability for experts to keep their process on hand and easily transfer them to every team member on site.
6. Speed up repairs and inspections
Improving the workflow of information is one important aspect of the daily work to be done inside and outside the maintenance department. The application of that information is also another aspect that can be improved for better efficiency of the team on repairs and inspections.
A CMMS can help technicians onsite to cope with breakdowns and inspections by having hands-on the latest procedures, checklists, and drawings to be followed. An identified failure can be repaired faster through the access to crucial and detailed information for work to be performed on equipment.

The new technologies have been flourishing those past years in many industries and are now making their way to the construction industry. The lack of current data for the analysis of work is a subject that needs to be tackled to better track and create relevant reports for decision making.
7. Collect real-time data
A run-to-failure maintenance strategy is as efficient as the reaction time between the information collected and the decision to be made. Information through the old method of papers can take from a day to a week between the moment it is recorded and the moment decision-maker access to the information in a proper readable way.
Thanks to the technology within a CMMS, information collected can trigger direct visual feedback to the technician performing measurement and is distributed to every decision-maker immediately. The data collected in real-time can save hours of work by avoiding the breakdown of equipment and enabling faster reaction when it happens.
8. Report maintenance KPIs
Maintenance KPIs can help you identify recurrent issues on your equipment and better follow trends measured. However, creating reports by collecting all the information needed such as pictures, measurements and comments can be a long and painful process.
A CMMS solution allows you to gather information in the same place and make sense of it by having tools to read and exploit the data. Having a better understanding of KPIs will help the management team to quickly analyze and make valuable decisions.
9. Access historical information
The equipment has to be managed throughout its whole life cycle and is complex to predict when you don't know its history. The technical team encounters various problems throughout their shifts and it can be hard to remember everything and share information in a high turnover of personnel.
A CMMS store important events that occur through the project's history for each piece of equipment. The inspections, repair actions and comments made throughout the lifecycle of the equipment are recorded to quickly troubleshoot failures and identify redundancies.

Safety has been and will always be the priority for every construction project in the world. With the construction site introducing always more equipment, the size of the maintenance team has been increasing and the management became more complex to keep high safety standards. A CMMS will bring your team together and ensure better safety practices throughout your project.
10. Improve accountability
It is hard to follow correctly the job to be performed as a technician and what has been done as a manager when using paper-based maintenance. It is easy to look over a work that should be done and get away with it as the energy to retrieve information might not be worth it.
A CMMS gives responsibilities to every team member to fulfill their task on a daily basis. Every action, inspection, and comment are kept into records to identify the responsible and easily track the role of everyone along the workflow.
11. Reduce the risk of accidents
Keeping the equipment in a good state is a task of every day to maintain the level of production and progress imposed by the project. The overhead paperwork is a distracting task performed by technicians and managers that take them away from their main responsibilities of tracking dysfunctionalities of the equipment.
Having a properly setup CMMS will help the maintenance team to keep the path and have better control of the maintenance actions and risks. Increasing the preventive maintenance will guard equipment against unexpected breakdown potentially dangerous when it occurs close to the workers.
12. Increase communication
Communication in the job site to deliver the right information is crucial to avoid mistakes and to avoid rework. Much double communication of information is made wasting the time of many and increasing the risk of misunderstanding.
Through a CMMS, communication is centralized and exchanged on direct channels with a proper context. Creating a work request and order from a mobile device to share and discuss an issue has never been made easier.

CMMS solutions have been deployed and proven to be saving costs in many industrial facilities. The construction is late to adopt new technology but professionals recognize the benefits and the needs for such a solution to assist them in their daily work to track and report.

Ensuring the working environment is safe while deploying high maintenance standards is what has been asked from maintenance professionals for years. Their experience has grown but the size and complexity of the projects are growing even faster and new technologies need to fill the gap.

The CMMS solutions will have to evolve from their original structure to fit the construction requirements and integrate the workflow without bringing more problems than they solve.

The article was originally published here.

<!— Hotjar Tracking Code for www.velistech.com —>