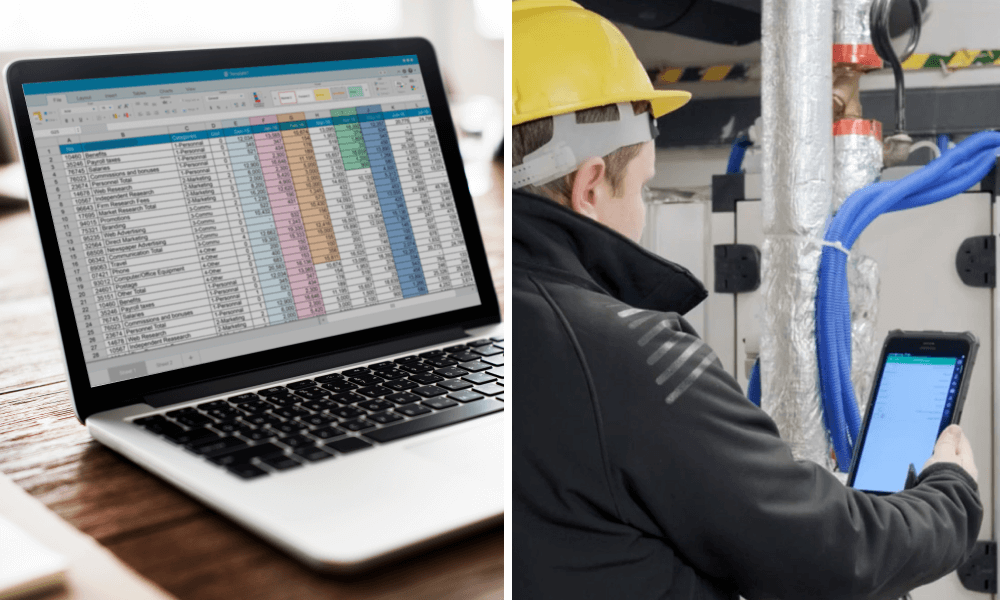 If you run or work at a real estate business, you know spreadsheets are the backbone of management. They're used to maintain a record of inspections, vendors, tenants, and more.
However, managing a spreadsheet with thousands of entries can be challenging as your services grow. The increased information makes it difficult to manage the data and prepare comprehensive reports that aid in informed decision-making.
This is where computer-aided facilities management (CAFM) comes in. It enables facility managers to automate task management. But many businesses are still hesitant to transition from spreadsheets and digital streamlining their processes.
Why do facility managers use Excel when CAFM is better? But in what ways is CAFM more helpful than Excel? Let's find out the difference between Excel and CAFM and understand how they help real estate professionals, especially facility managers, improve daily operations.
Why Is Excel so Popular?
Facility managers stick with Excel spreadsheets:
Because it's easy to manage.
To avoid making a digital change that they're not fluent in.
To prevent additional miscellaneous costs associated with CAFM.
To not saddle employees with complex software.
Why Should You Switch to CAFM?
Though Excel is excellent for facility management, it is inefficient, repetitive, and tedious. It's also time-consuming, which increases task completion times and stops you from reaching goals on schedule.
CAFM, in comparison, is a comprehensive system that can enable you to keep a proper record of events ranging from asset maintenance to new compliance violations. It can help you record these events, evaluate their outcomes, and find insights that help with your management strategy. The management software also saves time and increases goal completion time.
Moreover, CAFM provides you with real-time information, historical data, and other vital elements that are almost impossible to achieve with excel spreadsheets. Lack of access to this information can lead to increased facility management challenges, which is the last thing you want.
Excel vs. CAFM: How to Improve Daily Operations in Facility Management
How is Excel different from CAFM? Let's find out.
Multiples Files vs. Centralized System
Limited Data Overview vs. Precise Data Overview
Low System Visibility vs. High Visibility
Low vs. High Efficiency
High vs. Low Data Corruption
High vs. Low Human Error
1. Multiple Files vs. Centralized System
When Excel is used as a facility management tool, it creates multiple files recording valuable information such as property assets, purchase history, and other helpful information.
Other essential data, like warrant documents, require a separate Excel database. As a result, the data acquired from different departments become scattered. This makes it lose functionality.
Excel may also require real-time information, such as meter readings for properties, which would create another separate database, making data difficult to access.
CAFM software, in contrast, can store all types of data in one centralized platform. This facility management system can be inter-connected to other databases, making it easy to manage documentation without reading through thousands of single files.
Managing data in one place helps with easy filtering and data location. You only need to perform a search when looking for specific information, such as the purchase history of a building.
2. Limited Data Overview vs. Precise Data Overview
If you put in enough time, spreadsheets can help you analyze data within a limited scope. However, they have a limited function and cannot provide in-depth evaluations of asset tracking, inventories, and other automation workflow tasks.
In contrast, CAFM provides an excellent facility management platform that gives a precise data overview. It helps you get instant insights into asset parts, labor, and history. You can also view every insight using extended filters, widgets, tables, and dashboards.
CAFM can also help you establish preventive maintenance strategies based on trends, recurring problems, and benchmarking, enabling you to predict and solve problems before they occur.
3. Low System Visibility vs. High Visibility
Unorganized data with no hierarchal order generated by Excel can be challenging to understand. The high data volume can compromise the system's visibility and stop you from understanding or finding critical information.
In comparison, an intelligent analytics platform like CAFM helps to make data more readable and opens opportunities for transforming facility management functions. It also helps process property management data and makes tracking efficiency, maintenance, and operational business goals more manageable.
Moreover, the property management system provides actionable insight that helps optimize operations in performance areas. It also enables you to create a unified data model visible to building operators without having to come in contact with proprietary system contractors.
Furthermore, it uses a combination of big data and smart analytics to help facilities managers achieve business goals. The data can be directly transferred to the system without entering it manually, which is not a feature offered by Excel, no matter how functional it is.
4. Low vs. High Efficiency
CAFM allows facility managers to handle costs efficiently and utilize resources. Excel can do that too. However, it can't manage data as efficiently as CAFM software or without compromising on service quality and productivity.
Plus, managing tasks in Excel is challenging, and repeatedly creating sheets can be tedious, leading to low employee motivation and inefficient daily processes.
Comparatively, CAFM software helps with efficient cooperation, communication, and task assignments. It also brings everyone in the loop by making data easy to access. Moreover, CAFM streamlines all building-related and equipment maintenance procedures, monitoring, inspections, and workforce tracking measures.
It also may provide real-time data views in a cloud-based system. Then, the data can be accessed through any device: laptop, smartphone (which is important - in the form of a facility management mobile application or tenant app), and tablet. What each data viewer can see depends on the permissions you give them.
CAFM helps increase engagement, productivity, and collaboration among a diverse on-site or remote workforce. Interacting seamlessly in a mobile environment helps with communication and cooperation, increasing workforce and task management efficiency.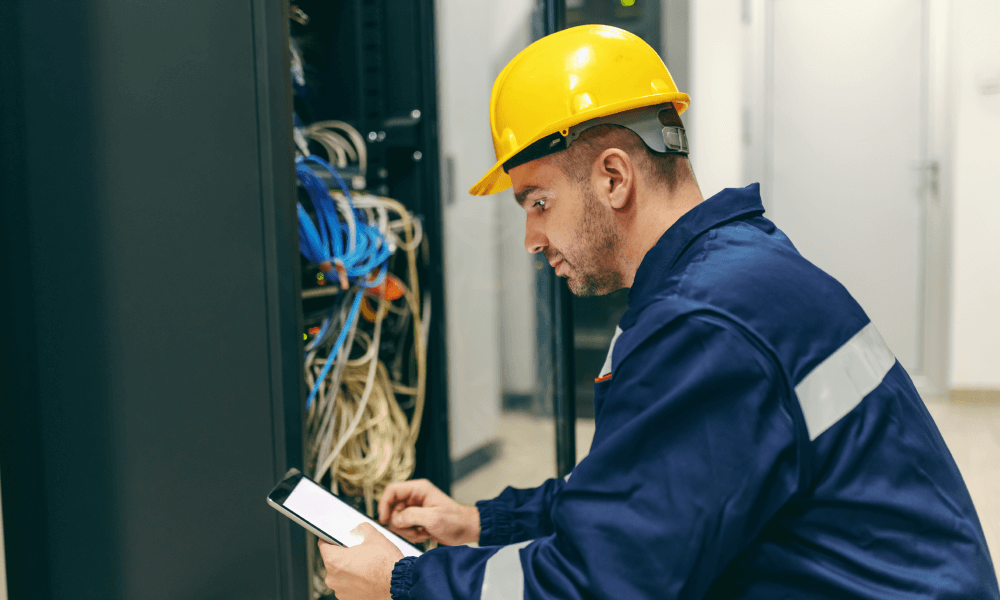 5. High vs. Low Data Corruption
Excel files can easily be corrupted when you move them too much, during unexpected system shutdowns, or when you leave them on a cloud database for too long.
Moreover, sometimes reopening single or multiple files can also cause malicious threats to get into the files. These threats can damage the data within the file.
In contrast, CAFM software saves original files and allows you to download copies for perusal. That way, even if the copied file gets corrupted, the original file is still there. Moreover, most CAFM software scans each file for malware, which makes your files even more secure.
6. High vs. Low Human Error
Property organizations employing excel templates for facility management tend to spend more hours rechecking the latest data entries.
The rechecking process often leads to the circulation of the same file, which causes confusion and unreliability of data. It also increases the risk of human error. In contrast, CAFM software lets you know when you're making errors or fixes them for you.
Conclusion
Businesses across every industry must implement the most efficient and effective business process to scale and compete effectively. In the real estate industry, spreadsheets for property management used to be an excellent solution at one point for facility managers.
However, with the growing needs of the property industry, it is vital to integrate sophisticated technology into their narrative for a more seamless flow of daily tasks and organizing data.
Maintaining a spreadsheet program that hosts hundreds and thousands of data points is challenging. Plus, as an organization grows in a challenging environment, keeping up with the information in a database spreadsheet becomes increasingly difficult.
That's why using a CAFM platform is crucial. It can help you make informed decisions, maintain an organized record of your data entries, and ensure low human error. And one of the best facility management software out there is Singu FM.
Singu FM can simplify maintenance management, enables you to control every aspect of your database, and is budget-friendly, which can't be said about some other CAFM solutions.
---
<!— Hotjar Tracking Code for www.velistech.com —>