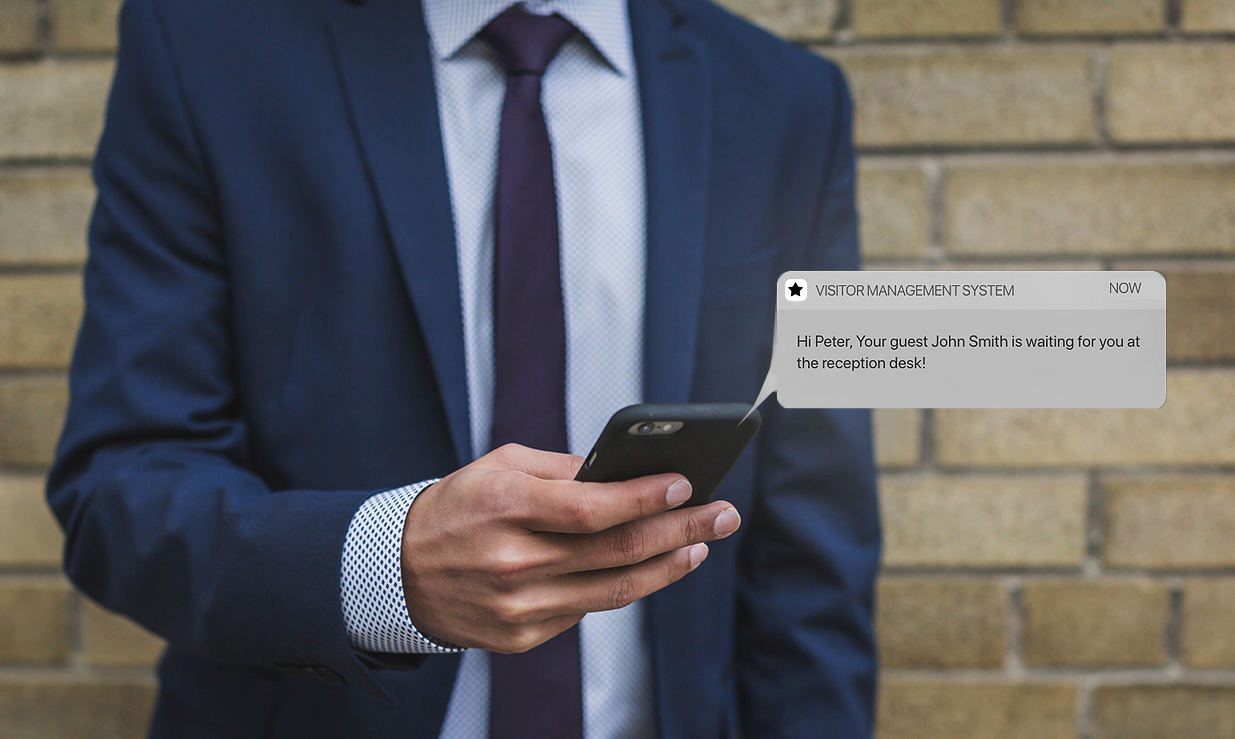 Visitor management systems are the way to improve the flow of visitors through the office, reduce administration costs, and strengthen overall security in the building. Additionally, integrating the visitor management with access control is becoming a requirement for more and more organisations. A digital visitor management system is far more precise and supplies extra information that a traditional log book could not provide. It is both safe and user-friendly adding value to the guests, suppliers, tenants, and to the whole building making it more prestigious.
Read this article and learn how visitor management can be improved by making your office a more welcoming place to visit.
Automation is around us
Automation is set to disrupt the way we live and work. The outdated method of manual signing guests' names on paper logs not only is inconvenient but also unsafe on the grounds that the visitors' names are often illegible and data on the paper log is left open to the public. Due to the fact that the system analyses the entrances and departures to the building, with a greater probability it is possible to determine whether the data introduced by the guests like their names are fake or not. That is why, the guest registration process should be replaced with a digital guest book. This highly innovative and impressive reception desk with mobile interface allows visitors to register on their own. The host is informed automatically about the arrival of the guest who was registered in advance.
First impression counts
If you want to improve the visitors experience and leave the right impression, you should provide them with a smooth, intuitive and stylish digital visitor management system. It is extremely important to guarantee a fast check-in and allow guests to register in seconds in your building. Pre-registered guests can receive email and SMS invitation with all important information related to the meeting like address, map, WIFI password or QR code which streamlines signing in even further. Environmentally friendly QR codes on the smartphone replace printed ID cards for pre-booked guests and make registration process faster. The guests simply wave their QR codes in front of the iPad camera to register. It is simple and impressive solution. Forget about queues and asking guests to spell their names. A digital guest book handles unlimited number of guests in various languages, so that spelling complicated foreign surnames is not a problem anymore.
New technology = new opportunities
A new technology offers top-notch hospitality as well as security. Give your reception an innovative boost and embrace technology to enhance visitor experiences. Informing the host about the guest's arrival can also be possible through automated license plate recognition technology. The message is sent automatically to the host when the guest's license plate has been recognized upon arrival. What is more, real-time integration with QR code-based Access Control System allows to open speed gates or turnstiles simply by scanning QR code from your mobile phone.
A digital visitor management enables to add, remove or edit quickly the list of the guests using administrative interface. What is more, it is possible to see an accurate list of visitor traffic in the building. A special dashboard allows to search present, past, and pre-registered visitors by day. In case of emergency, thanks to all data kept in the system, it is possible to send for example an evacuation alarm and determine who is still in the building in a quick way. Everyone who signed in using a digital guest book receives SMS e.g. with an evacuation assembly point so that you can be sure that your guests are safe and sound.
The new standard for access control
Protecting the facility from unwanted personnel and allowing a direct access for authorized visitors is the main challenge for many organizations. Access control systems allow to control access to physical places whereas visitor management is a tool allowing to audit and control visitors. The difference between these two systems is that access management enables regular employees to get in and out of the building through digital access cards. Visitors and contractors are only granted temporary access to the facility. Integration the visitor management with organization's access control system allows authorized personnel to move through the facility unescorted by a host. Directly from the visitor management system it is possible to grant access to authorized visitors outside personnel. Thanks to integration these two systems it is possible to track activity of everyone, also visitors. You know exactly who have entered and left the facility and when. Integration of the visitor management system with access control improves the process of managing visitors and adds an efficient advantage to the process.
Say goodbye to a paper logbook
A paper guest book poses numerous problems. First of all, the visitors who sign in provide confidential information about themselves which can be read by anyone who signs in after them. The visitors' privacy can be violated and security of the building put at risk. Illegible handwriting, untrue guests' names or empty fields are common in case of a traditional paper guest book. What is more, filling out numerous fields to register can be irritating and time-consuming. A paper logbook and hand-written visitor badges present to the visitors an old-fashioned image of your company.
Summary
Undoubtedly it is impossible to fully replace the human factor with technology, however, technology can give extra value to your guests and facility. Guests' visits to the office can be transformed into a truly and great experience making your office a more welcoming place to visit. A digital, unmanned reception desk which can easily handle busy peaks, is an effective way of identifying visitors and unwanted guests. Due to the fact that less physical contact is required, registration process is more efficient and faster.

Do not wait longer and replace it with a digital guest book! Learn more about Singu Guestbook – a visitors management platform dedicated to commercial and industrial real estate companies.

Kacper Troć

Velis Real Estate Tech

<!— Hotjar Tracking Code for www.velistech.com —>