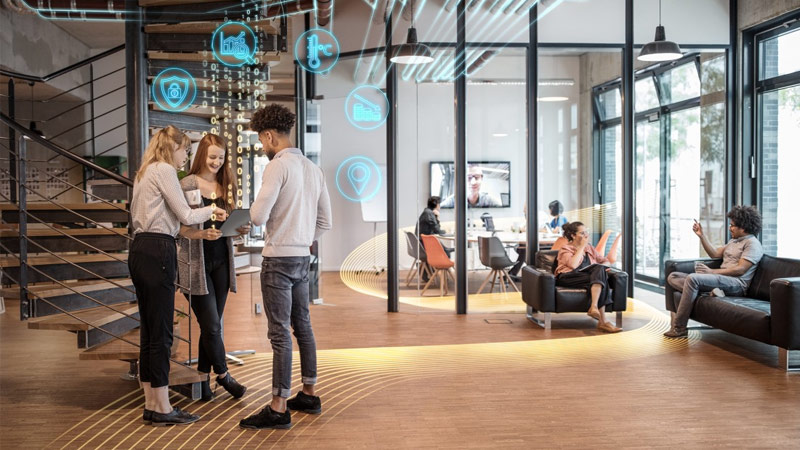 Image source: Siemens
Traditionally, smart buildings help promote the well-being and productivity of their occupants, and help companies and building owners drive cost efficiencies in facility management. In emergencies, these smart buildings can boost fire safety and security. Today, in the era of COVID-19, their capabilities have a critical role to play in the new world of social distancing and infection mitigation.
As we begin to imagine what the post-crisis world of work will look like, there are four ways that smart buildings can help.
1. Remote facility management and maintenance
With many employees across the globe obeying work-from-home rules, most office buildings today are largely empty. But they still need to be serviced and maintained. Network connectivity allows service providers to monitor, operate, and troubleshoot office buildings from afar in real time. HVAC and lighting settings can be adjusted remotely to conserve energy and bring down costs, as much as possible.
Remote connectivity also reduces the need for physical visits, as corrective maintenance decisions can be made without entering the building. With digital security management measures, service providers can monitor buildings to ensure that intruders or employees do not gain improper access.
2. Monitoring and maintaining social distancing
Eventually, however, we will return to the office, albeit with numerous changes and restrictions, at least in the near-term. Smart buildings can play a central role in implementing social distancing requirements.
Workplace applications are a fluid way to inform employees about the new safety procedures in each location, helping them to find safe workspaces or navigate uncrowded routes.
Image-based sensors and wireless technologies such as Bluetooth and Wi-Fi can be combined with workplace analytics to monitor spaces in order to ensure that pre-set density limits are maintained. Access control systems can regulate the number of people entering and exiting spaces. They can control the volume of flow by modifying access control timings in doors and turnstiles to ensure safe spacing between people entering an area.
Positioning systems combined with analytics can be used to segment office spaces to ensure employees are filling spaces evenly and within set density thresholds. Moreover, these analytics can be used to deliver real-time push notifications to office workers, informing them of the risk of exceeding set limits on the number of people in a given space, and can help workers choose locations in less crowded areas.
Analytics can also inform the frequency of cleaning and sterilization of common areas, meeting rooms, and workspaces and determine the number of targeted cleaning actions required. Combined with advanced predictive maintenance analytics, entire maintenance schedules can be transformed to meet on-demand requirements.
3. New office infrastructure
New office infrastructure and equipment can be integrated into smart buildings. Fever detection cameras are already being used at airports and other facilities. They can become part of default office infrastructure and help reinforce the awareness that no one should come to work when sick.
Infection can also be mitigated through touch-free smart building features such as automatic doors, mobile-phone access control, elevators that can be activated by mobile phone or voice, and mobile-phone control of room environments. Also, air flow and humidity levels can be set via HVAC systems to levels that support infection mitigation.
4. Changing the workspace
Even with all these innovations, there can be little doubt that office space occupancy rates will change, as will the way space is used in the post-crisis world. With remote work likely to remain a major fixture of infection mitigation, companies are certain to find they won't need as much space as they once did. Smart buildings can help organizations use data to reorganize and rationalize their leased office space. Workplace analytics on space utilization can provide the data needed for real-estate managers to determine what the new norm will be and how much space can be reduced.
The ability of smart buildings to help organizations respond to the COVID-19 pandemic exemplifies how digital infrastructure can help in all types of crises. Crucially, this helps us all manage the inevitable unexpected twists and turns we will encounter along our recovery from this pandemic.
---
The article was originally published here.

<!— Hotjar Tracking Code for www.velistech.com —>