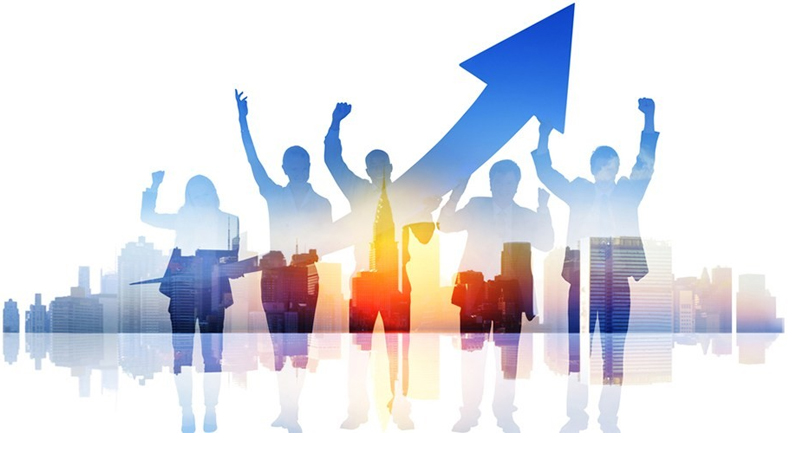 As we approach a new decade, it's always interesting to look back and take stock of the current state of your industry and understand the key trends and movements which have defined it. The Facility Management (FM) industry is also referred to as the Built Environment, the Workplace, or even the Workspace Management industry. Funny how a name changes as time goes by and as the industry is hit by certain fads and trends during its development, which is the essence of this article.
When you look at the overall development of FM during the past 40 odd years - from its early inception in the late 70'ies to its present state, you will find some interesting change shifts which have had a fundamental impact on the industry and defined it to what it is today.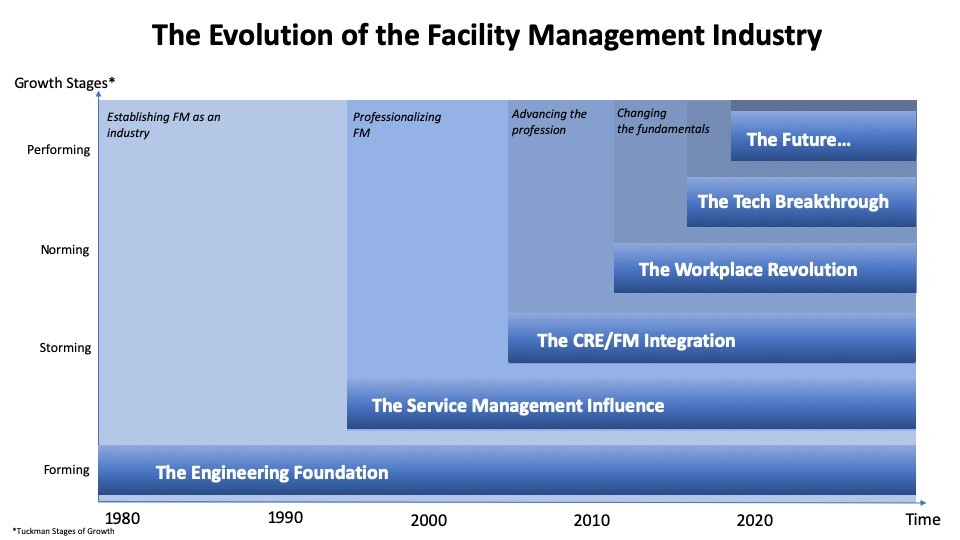 Every stage in the development of the FM industry is built on top of each other. When a new step-change occurs the former profile continues although in a different format as the basis of the industry changes. For example; FM was originally formed as a technical discipline, but as it developed, the technical competence required to deliver FM did not disappear. It changed and adapted to the new requirements of the market. It's worth noticing that the cycles are getting shorter, and the influence these shifts are having on the industry are getting more profound. Let's take a deeper look at the key industry changes and how they have affected FM.
1970'ies and 1980'ies: The Engineering Foundation
FM is born out of a technical engineering mindset and a wish to optimize and professionalize all the aspects of supporting and maintaining a building e.g. Technical Maintenance, M&E, HVAC, Energy, Janitorial, Security etc.
Although outsourcing of single services has been in existence for a long time, most of the FM disciplines were performed by in-house staff. But as time progressed more of the FM services would be outsourced providing a market for companies like Johnson Controls (JCI), Procord and others who were part of establishing the FM industry as we know it. As JCI primarily was a technical building systems provider, they used their FM business as part of a wider go-to-market strategy securing a channel for selling building and infrastructure systems - little would they know how profound an influence they would have on forming the FM market. The International Facility Management Association (IFMA) was officially established in 1980 to create a home for all the FM'ers who were getting into the industry as professionals.
FM was called the accidental profession as managers often "stumbled" into the profession, as FM was not usually part of a career plan and at the time it was impossible to obtain accreditation or a degree within FM or Building Management.
1990'ies and early 2000's: The Service Management Influence
As the industry grew and as FM outsourcing became more successful, we began to see the entry of the large service companies who entered the market in great numbers. It was probably a result of protecting existing client relationships as the interface between them and their customers was being challenged by FM players who, with increased efficiency, acted as managing agents procuring services on behalf of the client.
Peter Ankerstjerne, head of FM and Workplace Experience at PxWe, EMEA at WeWork and Vice Chair of IFMA's Board of Directors, distinctly remembers, back in the mid-90'ies when he had just started working for ISS, the company was approached by Ford Motor Company for a pan-European FM outsourcing deal. At the time ISS was predominantly a cleaning company and taking ownership of the entire FM delivery would be a bit of a stretch and highly risky. So they courteously declined to bid. Later ISS was then approached by JCI who represented Ford and who were now bidding out all the FM components to single service providers. ISS could then bid for the cleaning part of the contract, but it was clear, that the company would lose the customer interface, the brand identity and JCI would effectively decide how IS should deliver our services and to which margin. A decisive moment for the ISS was after deciding to move into FM, but with the own model, labeled as "IFS" - Integrated Facility Services.
Other service organizations such as Compass Group, with its establishment of 14fourty, and Sodexo had similar considerations and eventually decided to become part of the FM industry, each with their own differentiated go-to-market FM (or IFS) offering.
The upside to this development was that with the influence of the professional service firms the FM industry developed a much stronger Service Management mindset, where hospitality, design thinking, and service experience began to influence how FM was managed and delivered - and especially the "self-delivery" model began to influence the market as a true FM integration approach and an alternative to the "Managing Agent" model, which had defined the market up until now.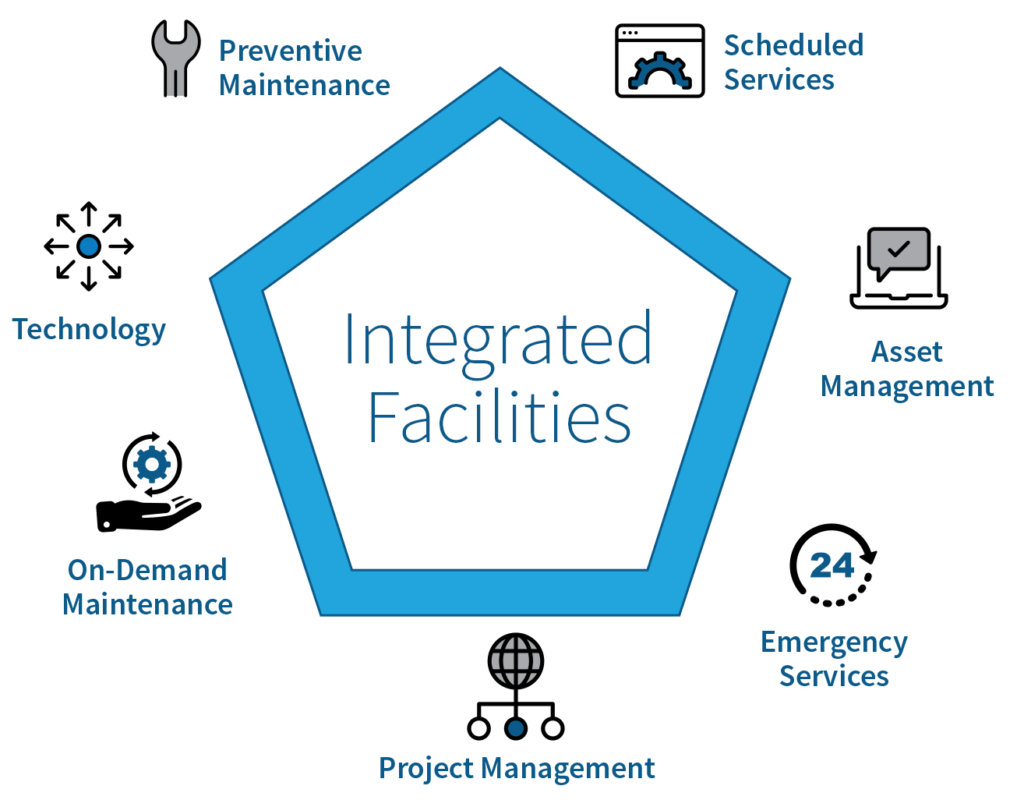 Implementing a service design system for Integrated FM has been key to success in combining "service management and FM".
Mid 2000's: The Corporate Real Estate Integration
In the mid-2000s, the FM industry was taking service much more seriously by putting the employee at the center of attention instead of the asset, and FM even identified itself as part of the larger service category. Then a new change began to influence the international FM market again. The integration between Corporate Real Estate (CRE) and FM. The large CRE corporations such as CBRE, JLL, and Cushman & Wakefield had all be at the periphery of FM but were largely concentrated on brokerage, developments, and capital projects, which was much more profitable than FM although more affected by the macroeconomic environment.
In 2006 CBRE significantly increased its FM focus through the acquisition of "Trammel Crow" and, as the financial crisis hit in 2007/08, the CRE organizations were severely hit on their profitability. They soon realized that FM, although less attractive in terms of profit margins, was a stable business that was much less affected by the ups and downs of the economy. Also, it was an easy (and logical) extension of their current business with a big overlap of clients and decision-makers. As more large international clients were merging their FM and CRE departments to realize synergies around the built environment and related projects, it was a natural extension of their current business to include FM in their portfolio of services. This trend was further emphasized by the CBRE acquisition of JCI GWS in 2015, which effectively made them a market leader within FM globally.
Over the past decade, we have seen an increasing number of international RFP's include integration of FM and CRE these organizations include: ING, HSBC, Novartis, HP, Google, and more. Sourcing advisor and consultancy company Trascent has been involved in many of these international tenders and as they state the CRE/FM supplier market maturity varies by region. But it is clear that the sourcing process now incorporates specific techniques to ensure clients will be able to achieve location specific high performance through its supplier base. Sometimes the impediments may well be on the client-side and other times there may be a lack of a supplier's presence or capability in a particular location. The integration between CRE and FM still needs to incorporate methodologies that drive location-specific performance improvements.
According to John Forrest, former CEO, Corporate Solutions at JLL, "Transformational objectives of CRE and FM — transparency, digitization, employee experience, productivity, etc. — require new ways of partnering and engaging. Our experience clearly shows that contractual intent that drives operational excellence for both clients and suppliers, strongly aligns the "how and why" of the way services are delivered. In my view, this is essential for high performing and enduring supplier relationships.
Mid 2010's: The Workplace Revolution
Although the IFMA Workplace Evolutionaries (WE) community, would argue that what we are witnessing in the workplace today is an evolution, which has been happening over the last 10-15 years. It would be argued that the workplacFe is currently experiencing such a dramatic shift in the way we do business, that we are talking about a revolution. This is unlike anything we have seen since the Industrial Revolution of the 19th century. It is a transformation that is happening on a global scale at a dramatic pace and should be seen as a community-driven social phenomenon that is changing the way we work, interact, and do business.
It's a perfect storm where there is a big demand for new workplaces, and especially new workplace experiences, but also recently there is a supply from especially the coworking companies such as Wework, Spaces, Impact Hub, Industrious, etc.
The key drive driver is still the availability and access to prime real estate but also, and increasingly so, to become a change agent with an ability to build and foster a community within or across the business, based on shared experiences and the freedom to work in an agile way and to flourish creatively. Using the workplace to allow a team to work together on projects with and for like-minded people, have similar interests, and goals. There are many change factors driving this development, but one of the key drivers is the changing workforce, especially as millennials are entering the job market in great numbers. This drives the Workplace Experience and especially the Coworking developments that we are witnessing in the market.
None of these industry shifts are new as they occurred in the late 2000s where especially Green Desk was launched in NYC. Green Desk was the predecessor of Wework and laid the foundation of the coworking trend that we are seeing today. It is believed that we have now reached a tipping point within the last few years, which will influence the FM/CRE industry in ways that are difficult to imagine today. Wework is at the epicenter of this development and their pace of growth exemplifies how fast this change is happening across the world.
No doubt that in terms of Co-working or Space-as-a-Service (SaaS) technology is an enabler of progress. The enormous growth, we have seen from this sector is being driven by customer choice, alternatives to the traditional office lease model that has dominated the market since its inception. Co-working is diversifying not only geographically but also in the number of industries served and in terms of how the workspace is delivered in the first place. We need to see co-working as an integral part of FM as it is increasingly becoming an integral part of an organizations' workplace strategy.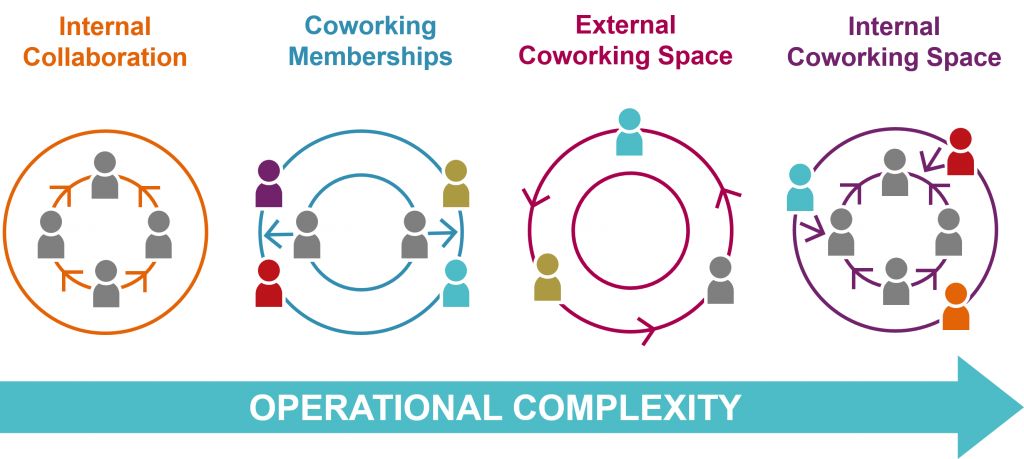 From 2020 and onwards: The next big step-change
Most organizations understand the implications of failing to adapt amid fierce digital disruption. Effective digital integration can drive better intelligence and facilitate more informed decisions about organizational efficiency. However, a distinct knowledge gap has emerged when it comes to building digital strategies around people's needs in the workplace.
Traditionally the FM industry has been a late bloomer when it comes to IT and Technological development and we are still waiting for the big breakthrough in terms of companies disrupting the market with new technology solutions, robots, and/or platform systems. Sure, we have seen a lot of developments within CAFM, IWMS, BIM and in general within sensor technology and smart buildings but it is still relatively expensive and it has not yet been widely adopted as a disruptor on how FM is carried out.
While we are waiting for the big breakthrough
The PropTech market is booming and will continue to grow in the foreseeable future. So much technology is being offered to the market both as part of a growing start-up community but also from established companies such as IBM, Microsoft, and SAP. The market is still somewhat fragmented where standards, protocols, and data-requirements (especially around GDPR) need to be more firmly established. The opportunity for PropTech development is driven not only by the sheer size of the market but also by the limited amount of innovation up until now.
It is believed that tech-enabled workplace providers will capture the majority market share over the next 8-10 years. The next crop of companies will introduce solutions to digitize workflows and elevate transparency for every stakeholder in the ecosystem so that better decisions can be made at a fraction of the cost. There is every indication that technological progress will increasingly shape the future of the industry. It will create a comprehensive offering for customers looking to maximize their space usage via access to robust insights into how building occupants actually use their space. Furthermore, IT will help to establish stronger connections between clients and their suppliers, enabling them no only optimize space planning but to build forward-looking solutions for the wider market based on data and customer insight that drive productivity, performance, and engagement of people within the built environment.
In attending MIPIM PropTech, RealComm, ExpoReal, and other technology-focused conferences you realize how big the FM/CRE tech market is becoming, how much investment is being made and how much talent is available. We are already seeing some real changes in terms of digitalization and technology disruption, and when they become more widely adopted, they will change the market as we know it.
Smart cities will be a key driver of FM/CRE change
No doubt that technology will have a profound impact on the FM industry and in its own right it will redefine the FM industry once again. We have been talking about when the IT-related change will kick in and to quote Bill Gates:
We always overestimate the change that will occur in the next two years and underestimate the change that will occur in the next ten. Don't let yourself be lulled into inaction.
So, as technology will drive change so will the continued urbanization of the society and especially the strong drive towards smart cities which is closely linked with the technology development and where FM has a huge role to play.
These new smart cities are getting communities and universities involved, alongside big companies and city authorities. This has helped shift the focus of smart-city projects onto the needs of residents. Successful smart-city projects blend disciplines, bringing together experts in behavioral change alongside specialists in artificial intelligence and information technologies. Interdisciplinary work can be messy and difficult, it can take longer, and it may not always work—but when it does, it can bring real benefits to cities.
If we, as Facility Managers, have the courage and the insight we are uniquely positioned to drive the change, especially within Workplace Experience, Coworking, and Technology. It is important not to be bystanders and observe the industry changes happen - instead, we need to embrace the opportunities it provides and help drive and adapt the change for the organizations we serve and to allow them to become early adopters and get the full benefit of the value we as FM'ers are able to provide.
Good luck harnessing the industry change ahead. See you in the future!
---
The article was originally published here.

<!— Hotjar Tracking Code for www.velistech.com —>