We have introduced several changes in the parameter management settings in the equipment details. One of them refers to the automatic creation of a ticket with the equipment name and the name of the parameter that was exceeded. Consquently, you will not miss any exceeded maximum value of a given parameter. The system will inform you about it automatically!
In the parameter management tab, the user can specify the maximum and minimum parameter value for the selected device as well as whether a new ticket should be created when the value is exceeded. Additionally, it is possible to define how many times the parameter value can be exceeded before a new ticket is created.
If a parameter is exceeded by a defined value, a new ticket will be automatically created based on the equipment data. If the same parameter is exceeded again, and the previously created ticket has not been closed - you will be informed about this in an automatically added new note in the same ticket (along with the equipment name and the name of the exceeded parameter).
Easy access to tickets created for a piece of specific equipment is available through the Equipment History tab.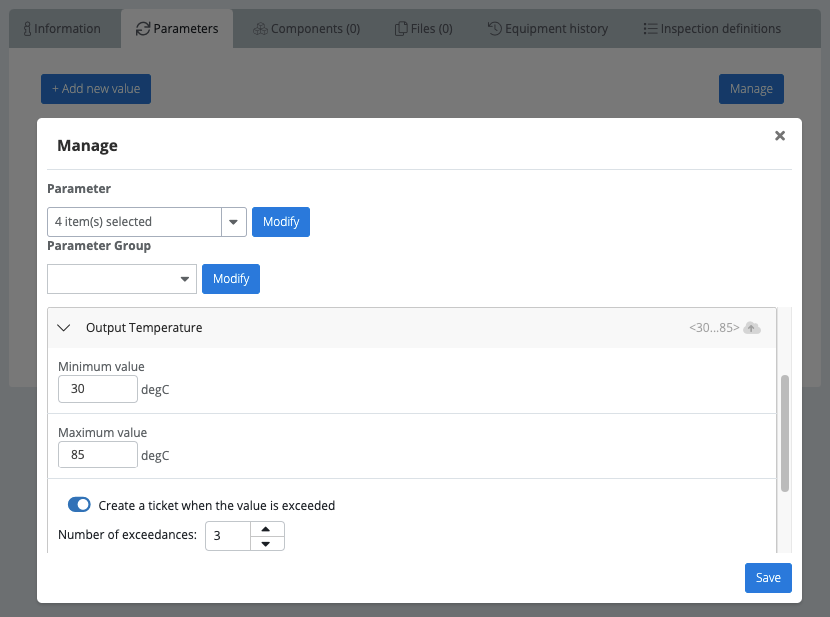 <!— Hotjar Tracking Code for www.velistech.com —>