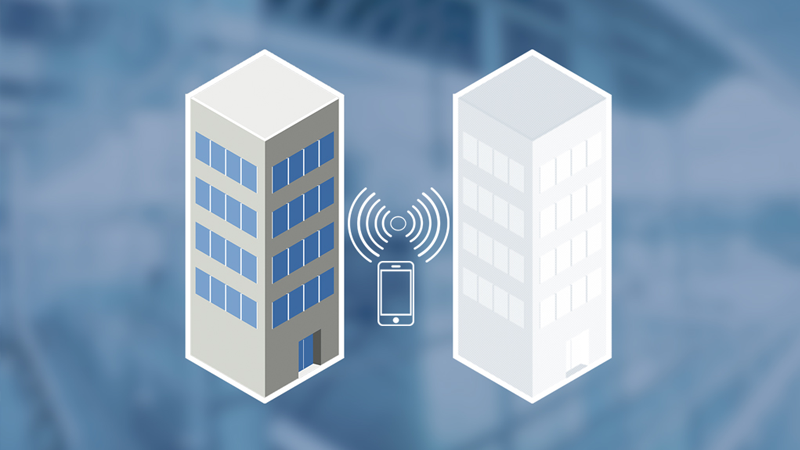 The real estate sector can no longer think about a bunch of isolated real estate objects. When designing, constructing and managing buildings now and in the future, creating a Digital Twin will help with the transformation needed to put users and their environment at the heart of the built environment, writes Menno Lammers, founder of PropTechNL
A Digital Twin is not a new concept. Dr Grieves of University of Michigan wrote the first publication on this subject back in 2002. NASA has been working for years on complex digital models that are an exact copy of reality. When disaster struck Apollo 13, NASA used mirrored systems (the predecessor of the Digital Twin) to save the Apollo 13 mission. Currently, NASA uses Digital Twins to develop new recommendations, route maps and the next generation of space vehicles.
Research and advisory company, Gartner, predicts that by 2021 half of the large industrial companies will use Digital Twins for better research and development results, with hopes to improve effectiveness by 10%. Digital Twins will provide help in the short term with the architecture, engineering and construction of real estate. I predict that the sector will also use Digital Twins in the next five to 10 years to increase management, flexibility, reliability and effectiveness of assets.
Fragmentation causes inefficiency and lifeless objects
The sector is still fragmented when it comes to disciplines (design, construction, property management, etc) including the use of data. This causes rising costs and inefficient processes. Learning capacity is low, the adaptation of new technologies is slow, and bricks are robust and static, so innovations are of an incremental nature. If we include the living environment, this fragmentation also has a negative impact on raw materials, energy consumption, traffic and health.
The real estate sector is dominated by people with an architectural, managerial, or financial background. This ensures the sector is thinking and talking bricks, transactions and financial gains. With that, the real estate sector is trapped in old organisational and business models from the 20th century.

Take a leap
Technological developments can contribute to the future of real estate, society, and quality of life. The Dutch real estate sector has the potential to take a leap to become an international progressive living environment. One of the building blocks to make this leap is the Digital Twin. The real estate sector has been using 3D digital models since 2000. We now know that failure costs during the construction process are reduced thanks to collaboration between multiple disciplines. At the end of last year BAM Infra became the first construction company in the world to have both the PAS 1192-2 (Design and Building) and the PAS 1192-3 (Asset Management) BIM Level 2 certifications.
Evolution towards a Digital Twin
A Digital Twin is much more than just a 3D BIM process, but what is a Digital Twin? A Digital Twin is a dynamic virtual representation of a physical asset, with which companies can better understand the performance of their assets, make predictions and find new income-enabling companies to change their function in the market.
To bring real estate objects to life, we can install various sensors which data can be collected from. We can measure the performance of a building by using self-learning algorithms (Artificial Intelligence) and data analysis, to solve problems in a shorter amount of time and reduce costs. The building turns into a smart building with significant added value.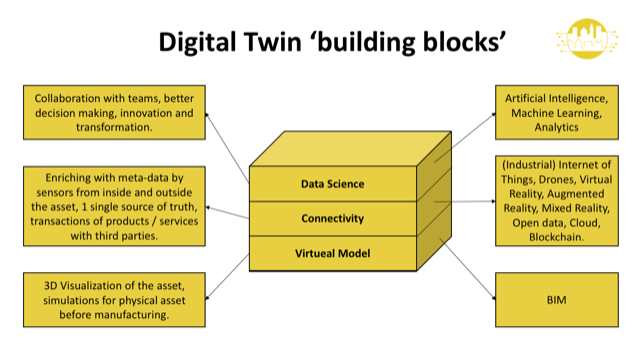 Digital Twins also enable the next step; development towards responsive buildings, which will address the needs and wishes of the users in real-time. Insight from data analysis in responsive buildings is used automatically to enhance user performance. For example, controlling installations based on specific users, enabling services and (pro-actively) informing users. Digital Twin technology helps real estate companies better understand the clients' needs, allowing more relevant improvements to be made on products, services and value models that significantly improve the customer experience.
Once the technology is fully embraced, the whole focus and structure of the company can change, eliminate old roles, create new ones, and potentially generate entirely new revenue streams.
Towards an Internet of Digital Twins
If a landlord connects various 'independent' digital real estate objects, an Internet of Digital Twins will be created. The learning capacity over buildings, neighborhoods and cities as integrated systems will be enhanced by this, because data can be monitored and analysed in real-time. This provides valuable insight to livability and health of living environments and ecosystems. Adjustments can then be tested in advance so that the impact of improvements can be increased.

Take the city of Singapore for example. Singapore created an Internet of Digital Twins of the city, that can be researched, analysed and modified in real-time by multiple stakeholders from both public and private parties. By more efficient and accurate predictions of future experiences, Singapore can better anticipate the planning of natural resources or provide services and contributing to a more sustainable quality of life. Singapore as a virtual city is a Public-Private Collaboration which enables the city to reinvent itself.

Another example is Sidewalk Toronto. This project combines the best in urban design with the latest technology to address some of the biggest challenges for cities; including energy usage, affordability of housing and transport. What does seem to be missing in the plan is the use of Digital Twins – a missed opportunity or an opportunity for Dutch businesses communities to take the leap?

It is necessary to enhance the learning capabilities and the adaptation of new technologies to remain future-proof as a company. Creation of a strategic alliance between real estate and technology is vital.

The original blog -inclusive sources and referrals- you can find on here

<!— Hotjar Tracking Code for www.velistech.com —>